Company Blog
Posted by on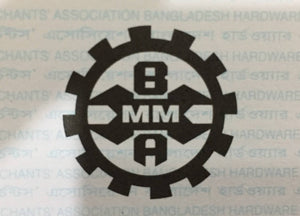 The Bangladesh Hardware and Machinery Merchants Association (BHMMA) is a prominent trade association that represents and serves the interests of hardware and machinery merchants in Bangladesh. Founded with the objective of fostering growth, development, and collaboration within the hardware and machinery sector, BHMMA plays a crucial role in advocating for the needs of its members, promoting industry standards, and facilitating communication among stakeholders. Download our BHMMA Membership Certificate  
Posted by on
The Value Added Tax Registration Certificate in Bangladesh is not merely a piece of paper; it symbolizes a commitment to transparency, accountability, and growth within the business landscape. By ensuring compliance with tax regulations, businesses contribute to the nation's progress and development while reaping the benefits of a formalized and streamlined taxation system. As Bangladesh continues to evolve as an economic hub in the region, the VAT Registration Certificate remains an essential instrument for fostering a thriving and responsible business environment. Download our VAT Registration Certificate
Posted by on
  The COVID-19 pandemic has ushered in a new era of uncertainty, with industries worldwide grappling with unforeseen challenges. Among those feeling the impact are spare parts businesses, which have been navigating the rough waters of shipping difficulties and delays. Yet, amidst these trying times, there is reason for optimism as companies adapt, innovate, and persevere, setting their sights on a brighter future. The Shipping Conundrum As the pandemic disrupted global supply chains and brought about restrictions, the shipping landscape experienced significant upheavals. Lockdowns, reduced workforce capacities, and increased safety measures at ports have led to congestion and a backlog...
Posted by on
EXP Form is a vital document while exporting goods from Bangladesh. Recently Bangladesh bank introduces online generation and submission of EXP form documents which is explained well in this document:
Posted by on
HS stands for Harmonized System. It was developed by the WCO (
World Customs Organization
) as a multipurpose international product nomenclature that describes the type of good that is shipped. Today, customs officers must use HS code to clear every 
commodity
 that enters or crosses any international borders.
---